Our Chief Pilot & Owner
National Champion Balloonist - Brian Beazly
Brian Beazly began flying balloons when he was only 14 years old.   He is now the owner and chief pilot of Balloon Odyssey, Inc., in Louisville, Kentucky.    Brian's passion for flight includes an interest in the sport's competitive arena as well. He has flown in the Kentucky Derby Festival Great Balloon Race every year since 1988, winning the event in 1995.  He also won the very popular Adam Matthews festival races in 1999 and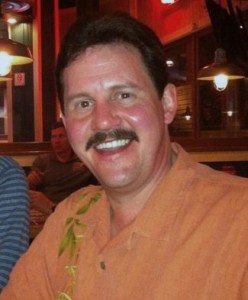 2001, as well as numerous other races in the Midwest.
Brian qualified for and competed in the Balloon Federation of America (BFA) U. S. National Championships ten times, finishing in the top ten five times (including a first place finish in 2002).  As a result, Brian was privileged to represent the United States in three World Hot Air Balloon Championships.   His first foray into the international arena was close to home in Battle Creek, Michigan, in 1995, at the 12th annual event.   In 1997 he competed in Saga, Japan, and then traveled to the championships in Mildura, Australia for the 16th World Championship in 2004.
As a flight instructor, Brian has assisted over 30 students in attaining their private and/or commercial pilot certificates. He is an FAA certified balloon repairman, receiving that status in 1989. He also designed and built his own gas balloon, a project that took over two years (and the tireless assistance of his friends and family). The balloon was christened "Tee'd Off" as it looks like a giant golf ball, and its maiden flight was launched in McCook, Nebraska, in March, 1996. Brian then added his airplane single engine land rating to his pilot certificate in July, 1999.
Brian is a past president of the Balloon Society of Kentucky and has served as an officer in the organization for eight years. He is a lifetime member of the BFA, and achieved the highest levels available in its Crew Achievement Award program and Pilot Achievement Award program. Both programs seek to improve the skills, knowledge and experience of hot air balloon crew and pilots.
Brian has over 3,000 hours as pilot-in-command and an excellent safety record. He loves to share his enthusiasm for flight with others, fellow pilots and landlubbers alike. He thinks you'll agree that a hot air balloon flight is an adventure like no other in the world!