Join our Crew!
Get in on the action!
It's a great way to make new friends, learn new skills and get some fresh air and exercise.
Hot air ballooning is a wonderful sport that brings people together from all walks of life.    Many people experience ballooning for the first time as passengers, then want to "join the action" by volunteering for a balloon crew to become more involved in the sport.    It's a great way to make new friends, learn new skills and get some fresh air and exercise.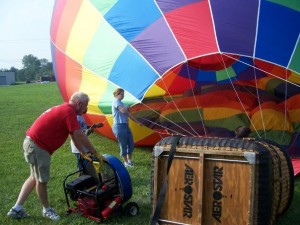 There are many ways to become involved in Hot Air Ballooning.  Ballooning is recognized very much as a team sport. One can train to become a pilot or many people are happy to just become part of the balloon crew. This can be just as enjoyable and the involvement is just as great and one still experiences the flying process as well as being part of the whole process from start to finish.
An average size sport balloon usually requires three to four people to operate. When the balloon is inflated on the ground, the pilot operates the burner from the basket while two people hold the balloon open at the bottom or mouth as it is called. They also control the ground inflation fan. Another crew person then restrains the balloon during the inflation process by holding a rope that is attached to the top of the balloon.
As you can imagine, ballooning can also have an active social side to it similar to many team sports. Crews become friends and very often travel to different parts of the country or even to different countries to operate the balloon.
Balloon Odyssey schedules flights every evening, weather permitting, as well as weekend mornings.    Generally, the balloon crew and pilot meet in Middletown two and a half hours before sunset, to prepare for the flight.    For morning flights, we meet just before sunrise.    The pilot checks the weather prior to meeting and calls the crew to confirm the meeting time or cancel the flight due to inclement weather.   We have a very skilled, seasoned crew to accompany and teach you.    And you can join us as it fits your schedule – for the occasional flight or as a "regular."
We email our crew members once a week with our schedule to allow everyone to choose what days they want to crew, and allow us to cover business demands. We love to share our sport with others, and would enjoy speaking to you about joining us on a flight.    Please contact us today!